Hurricane Alex was a very unusual cyclone that occurred in January 2016. It was the first January Atlantic hurricane since 1938, and only the 2nd one on record. Alex developed from a frontal zone that formed near the Bahamas on January 5. moving northeast out into the Atlantic, the system was able to be designated as a subtropical storm on January 12 as the system developed centralised deep convection over its low level circulation. Continuing to organise, the system weakened briefly as it began the transition from a subtropical to a tropical cyclone, which was complete a few hours before the system became a hurricane on January 14. Later that day, Alex peaked as a high end category 1 hurricane, before weakening the following day as it became extratropical again. Alex caused one death in the Azores as a tropical cyclone, when a tree fell on top of a person on January 15. Other than that, Alex had minimal impact on land areas.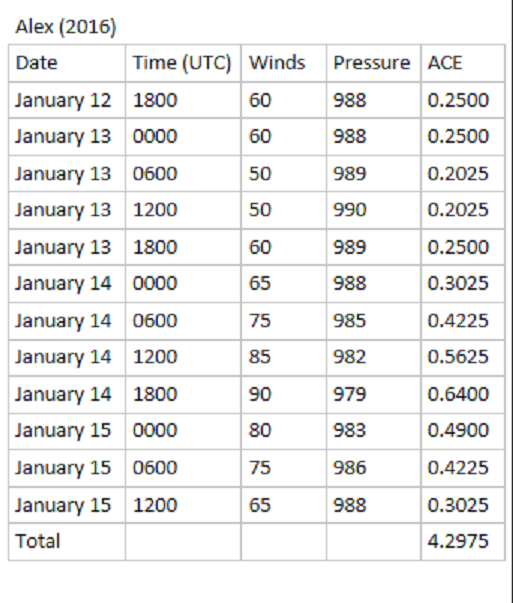 Ad blocker interference detected!
Wikia is a free-to-use site that makes money from advertising. We have a modified experience for viewers using ad blockers

Wikia is not accessible if you've made further modifications. Remove the custom ad blocker rule(s) and the page will load as expected.