Hurricane Earl was a devastating tropical cyclone that hit parts of the Greater Antilles, Belize, and Mexico, causing serious loss of life and damages in the regions affected. The origins of Earl can be traced back to a tropical wave that emerged into the Atlantic from the coast of Africa on August 26. Moving quickly westwards, the wave was unable to develop, due to its fast motion and initially high shear. However, on August 2, a recon plane from the National Hurricane Center was able to confirm the existence of a closed surface low, along with a maximum wind of 45 mph, allowing the system to skip tropical depression status. Situated in a more favourable environment, Earl became the second hurricane of the season late the following day, before making landfall at peak intensity near Belize City on August 4. After moving inland, Earl quickly deteriorated, and was a minimal tropical storm by the time it emerged into the Bay of Campeche on August 5. However, besides land interaction, Earl was able to reach a secondary peak intensity of 60 mph before making landfall near Veracruz, Mexico, at the same intensity early the next day. Moving inland, Earl quickly weakened, and lost its low level circulation the next day, with its remnants contributing significantly to the rapid formation of Javier over the eastern Pacific. During its time as a tropical cyclone, Earl was responsible for the deaths of 106 people, and at least $250 million in damages. Earl was the deadliest central American hurricane since Stan in 2005, which caused over 1800 deaths.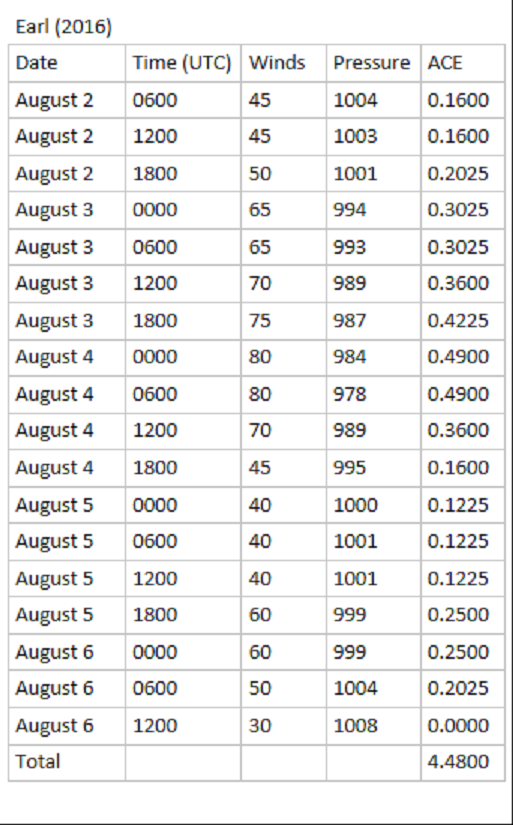 Ad blocker interference detected!
Wikia is a free-to-use site that makes money from advertising. We have a modified experience for viewers using ad blockers

Wikia is not accessible if you've made further modifications. Remove the custom ad blocker rule(s) and the page will load as expected.