Tropical Storm Arlene was a rare April tropical cyclone that existed in the Atlantic during mid April. Originating from an extratropical cyclone that developed near Bermuda on the 16th, the system moved towards the northeast, before organising into Subtropical Depression One at 0000 UTC on April 19 as a series of convective banding features developed near a low level circulation within the system. The following day, the depression became fully tropical, besides being over 18-20C waters, an extremity that doesn't usually allow for tropical or subtropical cyclone development. Besides the unfavourable conditions, the now purely tropical cyclone intensified into Tropical Storm Arlene 6 hours later, before reaching its peak intensity early the following morning with winds of 50 mph. Following peak intensity, Arlene began an extratropical transition as it began interacted with a frontal system and associated extratropical cyclone to it's northwest. The remains of Arlene would undergo merging with the frontal zone the following day, before completely dissipating. There were no effects on land from Arlene, it's precursor or it's remnant low pressure system.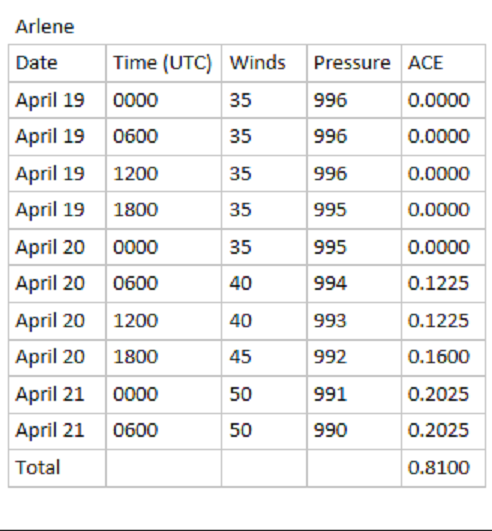 Ad blocker interference detected!
Wikia is a free-to-use site that makes money from advertising. We have a modified experience for viewers using ad blockers

Wikia is not accessible if you've made further modifications. Remove the custom ad blocker rule(s) and the page will load as expected.