Tropical Storm Danielle was a tropical storm in the Bay of Campeche that took the record for the earliest 4th named storm, beating the record of June 23 set by Tropical Storm Debby in 2012. The origins of Danielle can be traced back to a tropical wave that emerged from the coast of Africa on June 8. Moving across the entire basin without any significant development, the system began to organise on June 17 over the western Caribbean Sea. Moving over Belize and into the Gulf of Mexico on June 18, the system was able to organise into Tropical Depression Four on June 19, before becoming a tropical storm the following morning around 0600 UTC. After becoming a tropical storm, Danielle executed a turn towards the west, and reached a peak intensity of 50 mph several hours later before beginning to weaken due to land interaction, making landfall by around 0000 UTC on June 21, and weakening to a tropical depression soon afterwards. Continuing inland, Danielle weakened to a remnant low, with its remnants emerging into the eastern Pacific, where they produced intermittent convection for a few hours before dissipating completely under highly sheared conditions. As a tropical cyclone, Danielle caused the death of one person, and caused minor damages as a result of beach erosion and flooding caused by storm surge and heavy rainfall, which reached 700 mm in some locations in Tamaulipas.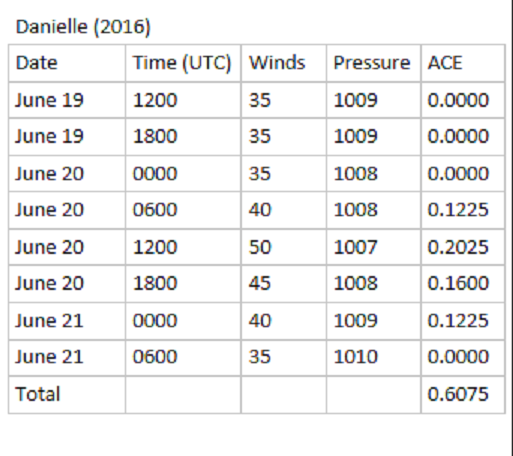 Ad blocker interference detected!
Wikia is a free-to-use site that makes money from advertising. We have a modified experience for viewers using ad blockers

Wikia is not accessible if you've made further modifications. Remove the custom ad blocker rule(s) and the page will load as expected.